The Lead Gen Form is a personalised pop-up that is designed to help you generate more leads. Companies that use the Lead Gen Form can generate 3 times as many leads from their website.
What is the Lead Gen Form?
The Lead Gen Form is something we are very proud of. The Lead Gen Form makes it easy for visitors to your website to leave their contact details. Do you want to greet a company with their company name? Or do you want to add in which city the company is located? It's all possible with the Lead Gen Form!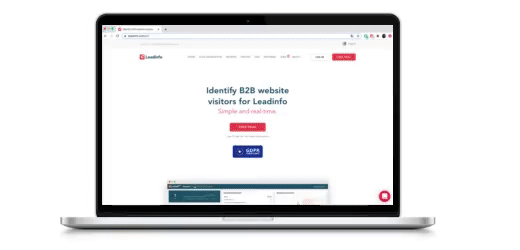 How do I set up the Lead Gen Form?

You can easily install the Lead Gen Form in the Leadinfo portal. In the top menu, you can click on "Lead Gen Forms". On this page, you can determine the settings of the form. In the menu on the right side, you will see below settings:

Appearance: Determine the general settings of the Lead Gen Form here. Such as the Call-2-Action and the delay of the pop-up.

Position: Choose where the Lead Gen Form needs to be shown on your website.

Text: Write a personalized text that will be sown in the pop-up. Via 'drag and drop' you can add personalized fields such as company name, city, and phone number.

Colour: The colour of the Lead Gen Form automatically adjusts to the colours on your website. If you would like to change these colours, you can click on "Advanced colour options".

Action: Select to whom you want to send the notification email and in which language you want to send the email.

You can find a detailed explanation of how the Lead Gen Form works here.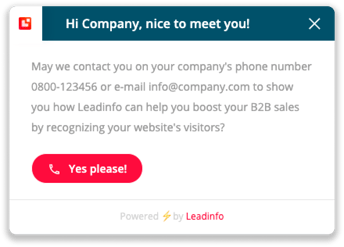 Where can I see the submissions?
After you set up the Lead Gen Form, the submissions will start popping in. Besides the e-mail notification, you will also see a list of all the submission in the portal. Navigate to Lead Gen Form, and open "Submissions".