The Frequently Asked questions on the Lead Gen Form
In this article you can find the answer to the frequently asked questions on the Lead Gen Form.
Can I install the Lead Gen Form on specific pages?
No. The Lead Gen Form will appear on every page where you have installed the Leadinfo Tracking code. We'd love to hear what you think. If you'd like a new functionality you can suggest it in our feedback section.
How can I change the phone number in the form?
The properties you see are personalised based on the company that visits your website. Your website visitor will always see their own contact details and logo when the Lead Gen Form is shown.
Will the Lead Gen Form pop-up every time someone visits the website?
The Lead Gen Form is always fully shown when someone visits your website. If they click the form away, the Lead Gen Form will not appear for a period of time.
How does Leadinfo determine the language that is shown?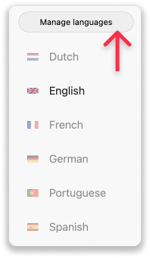 Within the Lead Gen Forms settings you can provide text for different languages. Based on the browser settings of your website visitors, we will determin what form to show.

If you settings are in German, Leadinfo will show the German text. If you're website visitors has a language setting that you have not provided in the Lead Gen Form, we will always show the English text (when added).

Easily add a new lanauge by clicking "Manage Languages" within your Lead Gen Form settings.
My lead gen form doesn't appear on my website. How can I fix this?
There are several reasons why the Lead Gen Form doesn't appear on your website. We've explained the different steps you can take to solve this in this help article.