The dashboard of Leadinfo is the place where all the data of your website visitors comes together. Discover in a blink of an eye who your website visitors are, where they're located and what from what industry they're from. In this article, we'll explain every widget in the dashboard.
Good to know📝: You will see the data from the past 24 hours, 7 days or 31 days. In the bottom right corner of the widget you will find the period use for your dashboard.
Live Widget

Check the amount of recognised companies that are visiting your website in real time.

View the number of business visitors in the past 24 hours by hovering over the line graph.

Use this information to find out what the peak hours are on your website!

Map view Widget:
View the location of the companies that have visited your site in the past period.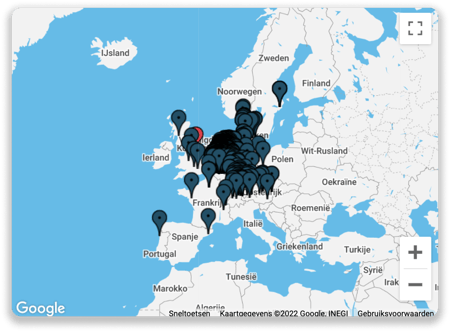 Companies per province Widget:
Check out the origin of the companies by province. The darker the colour, the more traffic originates from that province.

By hovering over a province, you can see the number of companies from the province that have visited your website.

Based on this information, you can see in what province you are most popular. Is this not in accordance with the province you are active in? Then change the targeting in your marketing activities.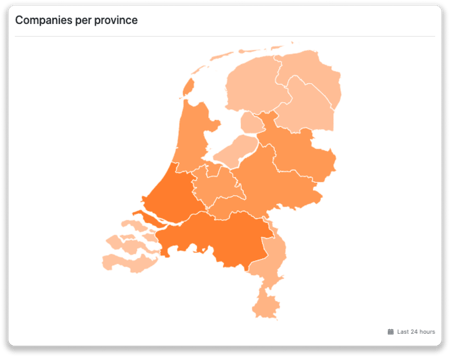 Most active companies Widget:
Top 10 companies who have visited your website the most.

Displays the number of sessions of the most active leads.

Click on 'Show more' to view the Top 25 most active companies.

Company size Widget:
Discover the company sizes of the different companies that visited your website.

Branches Widget:
View the different branches that have visited your website the most.

View the amount of companies per branch.

Use this information to change the content on your website in order to appeal to the branch you are most active in.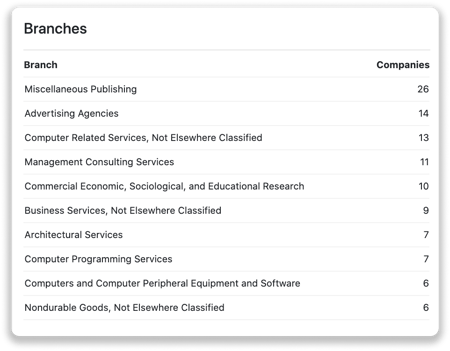 Most visited pages Widget:

View the Top 10 and Top 20 most visited pages
Discover what pages are performing well or what pages need a little love