Easily connect Leadinfo to your Google Ads
Are you promoting your website via Google Ads? Make sure to connect Google Ads to your Leadinfo account. Once you've made the connection you will find information from Google Ads in Leadinfo.
How do I connect Google Ads to Leadinfo?
Set up the connection within a few minutes by following the below steps:

Step 1: Log into Leadinfo and go to "Settings".

Step 2: Select "Google Ads" on the left side under "Integrations".
Step 3: Click on "Connect with Google Ads"
Step 4: You will be referred to Google. Here, you can provide your Google credentials and give Leadinfo permission to access your Google Ads account.
Make sure that you connect an account that has admin rights to your Google Ads campaigns!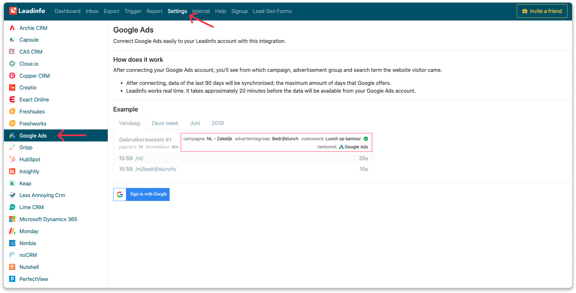 From now on, you can start using your Google Ads integration in the portal. The data from the past 90 days is synchronized. Leadinfo works real-time, it takes about 20 minutes before the data is available from your Google Ads account.
What information is shared?
When a company visits your website through your Google Ads campaign, you will see the following information next to each user session:
Campaign

Ad group

Term, meaning the keyword

Search term
Use this information to evaluate and improve your Google Ads campaigns!