Based on the information that Leadinfo provides you can quickly identify when a website visitor is a cold or a warm lead. With this information you can decide whether to nurture them through additional advertisements or to directly contact them.
In this article we provide useful tips for sales to conduct a follow-up on interesting leads.
By phone
Calling your leads directly is the most common way to follow up on potential leads. Your sales department can directly contact the company that showed interest in your product or service. In the table below, you can find some Do's and Don'ts when it comes to contacting an interesting lead.
Do's 👍

Don'ts ❌

Refer to interest

Make sure to mention the interest that the company showed on your website. You can use the topics of the pages that the company visited on your website.

Do not be too personal

Do not ask if the person you are talking is also the one who visited certain pages. This might scare your potential customer.

Ask for confirmation

Confirm that you are talking to the right person. You often already know which contact person you need to sell your product or service to!

Do not pitch too early

To prevent coming off as too pushy, wait until you get a permission to start your pitch!

Be open and honest

When someone asks how you got the information: Be honest. Share that you used Leadinfo to gather info.

Do not search for too long

Do not focus on finding the perfect contact person. Ask for the person you normally are in contact with.
LinkedIn Sales Navigator
Does your organisation use Sales Navigator? Use the information from Leadinfo in Sales Navigator. Via InMail you can send messages to specific employees at a certain company. In addition, you can use Sales Navigator to find the right person you want to talk to. Sales Navigator is the way to connect with interesting website visitors that are not warm enough for direct contact.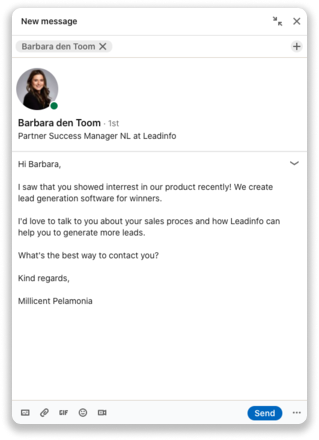 Surprise visits
When your product or service is suitable for it, you can send your account managers to visit potential customers! Via this way you can offer your product or service in an original way.