With Leadinfo you can set up customised email reports with an overview of all the companies that visited your website. However, it can happen that your Microsoft Outlook automatically quarantines your emails. No need to worry, with the steps in this article we'll show you how to release quarantined messages.
Please note: Only Admin users can view and release quarantined messages. If you do not see the options described below, you can forward this article to your IT Admin.
Release Leadinfo Emails from quarantine

Step 1: Sign into the Microsoft 365 Defender Portal and head to this page.
Step 2: Ensure that the "Email" tab is selected. Here you will see a list of all emails that are place in quarantine. Click on the Leadinfo email or multi select the email.
Step 3.A. If you select a single email a slide out appears. In the slide out select "Release email"
Step 3.B. If you select multiple emails, select "Release email" in the top corner.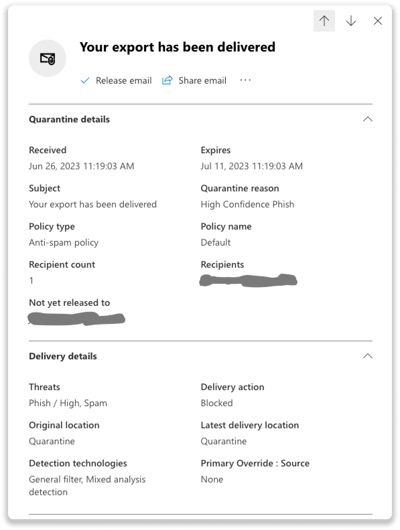 Step 4: Select the option to release the email to all recipients and check the boxes to:
Submit the message to Microsoft to improve detection (false positive)
Allow emails with similar attributes (URL, sender etc.)
Leadinfo Tip 💡 Your filter will learn that Leadinfo emails should not be quarantined. However, to ensure a good process, we recommend checking your quarantined email regularly!