We introduced the data dump for all marketeers who love to work with data. ❤️

With the data dump, you can download all the website visits that every company made. Allowing you to analyse your website visitors in great detail.

First things first. The data dump is turned off for every account by default. In order to start using the data dump, you need to email us at support@leadinfo.com or send us a chat!

How to download all your Lead data
To download your data dump, simply go to "Settings" and click on "Data dump" in the left menu.
Here you can select "Request data dump". Leadinfo will then start processing all the data generated in your account.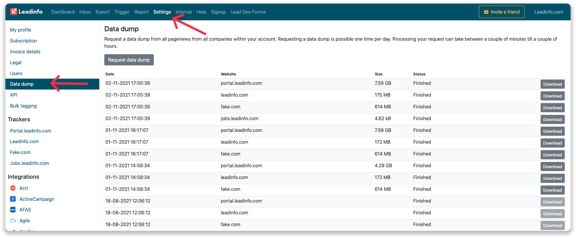 A few notes you need to take into consideration:

⏰ You can request a data dump once every 24 hours
📂 Once the data has been processed, you will download a .csv file
⏳ It can take up to minutes or hours depending on the data in your account

What data can you download?
The data dump allows you to export every website visit a company made. Valuable information if you want to create in-depth analyses. Besides, this info you can download:
Visiting time

Page URL

Page title

Duration

Referrer

Company name

Description

CoC number

Branch code

Branch

Employees

Address

Postal code

City

Country

Email address

Website

Phone number

Tags

Search term (Google Ads)

Campaign (Google Ads)

Ad group (Google Ads)