We don't just give you an overview of your website visitors, with Leadinfo you can also see each lead's detailed browsing activity. Meaning that you can spot users showing buying intent from a mile away.
What are screen recordings?

With screen recording, you gain insights into the exact behaviour of your website visitors. In the recording, you will see where your website visitors move their mouse to, and where they have clicked on. Use this information to improve the call-to-action on your website and help your leads find the information they need!
Good to know: Screen recordings are not part of the standard Leadifno subscription. If you wish to use screen recording you can purchase it as an add-on on your current subscription. Contact our team via support@leadinfo.com to know about the pricing.
How can I play the recording?

Next to every user session in a company profile, you will see the button "Show recording". When you click on the button, the Leadinfo Player will open in a new tab.


In the video player of the recording, you will see different buttons. The button "Skip inactive" allows you to skip through all the inactive moments of your website visitors. An inactive moment are moments when your website visitors click away from your website.


With the buttons 1x, 2x, 4x en 8x you can determine the playback speed of the recording!

Can I see a timestamp of the recording?


On the right side of the recording you find the sequence of the recording. This includes information about the which pages and how long the website has been viewed.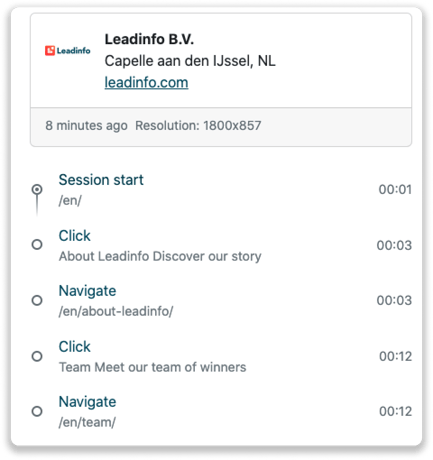 How can I send the recording to my colleagues?


You can now send the recording to your colleagues! At the top right, you find the button to share the recording. Copy the URL, and send it to every colleague that needs it. You do not have to be a user of the account to be able to view the recording.

Add screen recording to your account!


This awesome functionality is not included in the standard subscription of Leadinfo. You can purchase screen recording as an add-on to your current subscription in the portal. The monthly costs are based on the number of companies we can recognize per month!

Within a few clicks, you have purchased screen recording and added it to your account!