What is the Lead Gen Form?
The Lead Gen Form is a part of our software that we are very proud of. This makes it easy to give a personal greeting to your business visitor. When a company comes to your website, you can welcome them with a personal greeting and easily request a callback or email.

Below, you can see an example of the Lead Gen Form available on our own site. The pop-up recognizes the company name and telephone number. It is processed immediately, so that the step to leave a contact request is even smaller.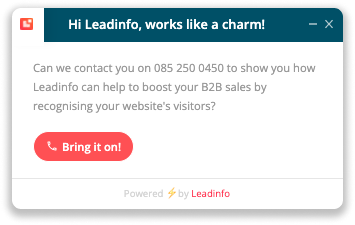 The Lead Gen Form is easy to set up in our portal. In the menu bar at the top you have a heading "Lead Gen Forms" where you go to the setup page. You do not need to place any code on your website for this piece of software, because we use the tracking code that is already on your website.
Check out this article to set up the Lead Gen Form on your website.