The Lead Gen Form is a part of our software that we are very proud of. This makes it easy to give a personal greeting to your business visitor. When a company comes to your website, you can welcome them with a personal greeting and easily request a callback or email.

Below, you can see an example of the Lead Gen Form available on our own site. The pop-up recognizes the company name and telephone number. It is processed immediately, so that the step to leave a contact request is even smaller.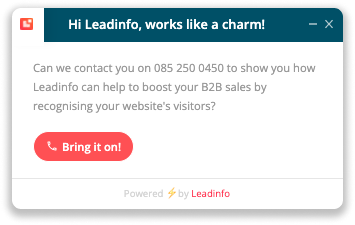 The Lead Gen Form is easy to set up in our portal. In the menu bar at the top you have a heading "Lead Gen Forms" where you go to the setup page. You do not need to place any code on your website for this piece of software, because we use the tracking code that is already on your website.

Step 1: Select "appearance" and choose what type of request you want to process in the pop-up. You can also choose whether you want to make the pop-up visible on mobile.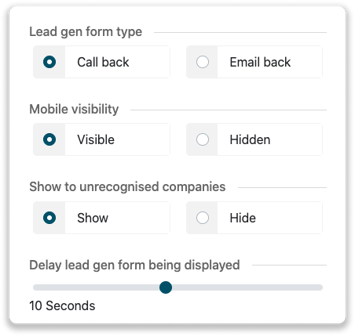 Step 2: Select "Positioning" to determine the desired position for your pop-up.
Step 3: Select "Text". Here, you can adjust the text that appears in the pop-up when the customer visits your website. By dragging the labels "Company", "Phone number", "City" and "Email" to the place where you want them, it becomes a personal pop-up.
Company: This loads the company name. For example, you see in the example that it says "Hi Leadinfo". In the image below, it says "Company" at that position, so that a personal greeting is given.

Phone Number: Loads the phone number of the company. This is therefore placed in the button in the example, so that the customer does not have to look up his own telephone number, and it is a small step to leave a callback request.

City: You can use this for, for example, "We have good recognition in Rotterdam". This ensures that you can process specific places in your Lead Gen Form.

Email: This is useful for an email request. As a result, the customer immediately sees the e-mail address of the company, so that the step to click the button is even smaller, and you create more leads.

Example email request: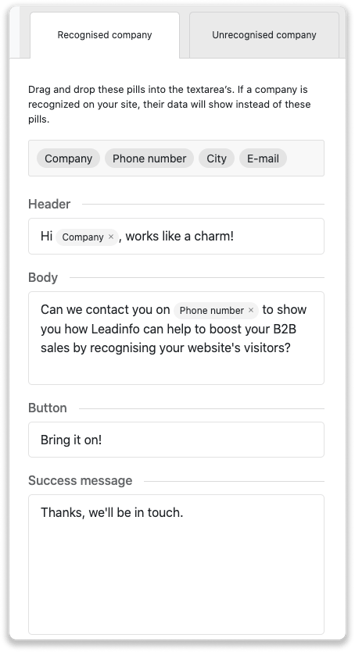 Step 4: Do not forget to enter "Unrecognised company". Otherwise, the Lead Gen Form cannot be saved. This heading is intended for visitors to your website who are not recognised. Here, you can not use the tags because we have not given them.
Step 5: Personalise the pop-up with the "Colour" heading. Here you can choose the colours for your Lead Gen Form according to your own wishes. By selecting "Advanced colour options" you can further adjust the colours so that you can adjust the whole to your own taste.
Step 6: Select "Action". Here, you can choose who will receive an email when someone has used your Lead Gen Form. You can enter multiple e-mail addresses here.
Step 7: Make sure the Lead Gen Form is enabled and click Save.

From now on, the Lead Gen Form is on your website. You can start using and create even more leads! Can't figure it out after this guide? Don't hesitate to contact us!