Easily connect Leadinfo to Zoho! Enabling you to gain access to powerful insights within our CRM system. Once you have made the connection, you can send the visited pages as a note in the company profile!
Why Connect Zoho to Leadinfo
Before you set up the integration, let's dive deeper into what the benefits of connecting Zoho to Leadinfo. First and foremost, with the integration you can:
🔗 Link website visitors to existing companies within Zoho
🆕 Send a website visitor of as a new company within Zoho
💻 View the visited pages of said company within Zoho

This allows you to integrate the information from Leadinfo into your current sales flow.
Please note 📝 The pages a company visits will be shared after the connection has been made. Sending over pages does not work retro-actively.
How do I set up the Zoho integration?
1. Log in to the Leadinfo portal and go to settings.
2. Under integrations, select "Zoho".
3. Click on "Connect with Zoho".
4. Login with your Zoho data and give Leadinfo permission to access your Zoho Online environment. If you're already logged into Zoho, Leadinfo will automatically make the connection.
Please note: You need to connect an account with the correct user rights in Zoho!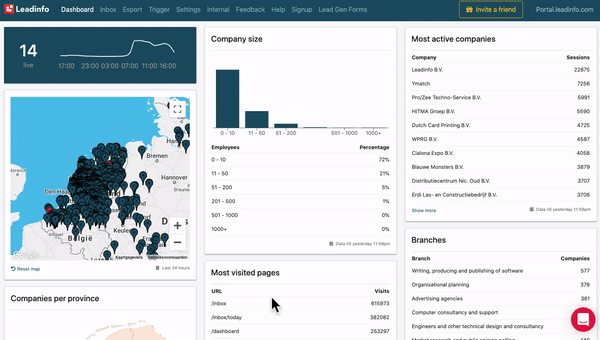 How do I connect companies from Leadinfo to Zoho?

Once you've connected Leadinfo to Zoho, the data will not be shared immediately. To start sharing information, you will need to connect a company from Leadinfo to Zoho. You can do this from the inbox.
1. Go to the company profile you want to connect.
2. Click on the button "Connect to Zoho" in the right corner.
3. Connect the company to Zoho. You can do this in two ways:
3.a Does the company already have a profile in Zoho? Search for the company you would like to connect it to and click on "Link".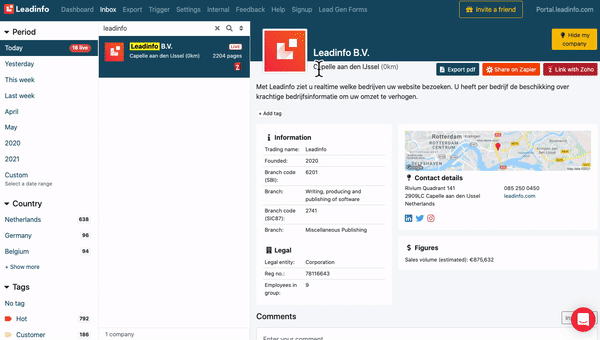 3.b Do you want to create a new company in Zoho? Select the correct account manager, give the company a name (prefilled) and click on "Create and link".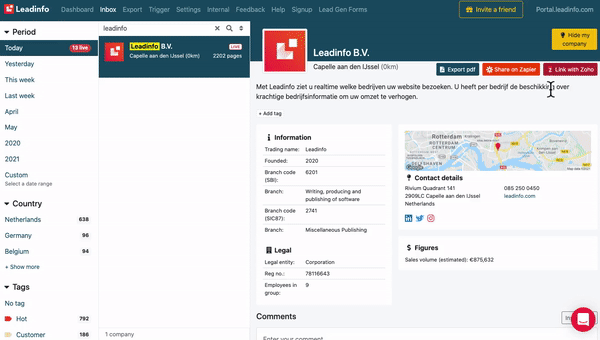 4. You will immediately find the company in Zoho as a lead.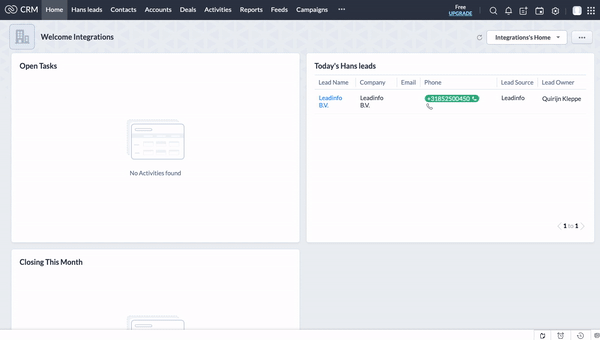 What information is shared?
When you create a new company from the inbox, Leadinfo will share the following information with Zoho:
Company Name
Website
Description
Phone number
Account manager
City
Region
Postal code
Country
Address
Lead source
Good to know 📝 We never view the data of your CRM ourselves. The system only needs authorization so Leadinfo can transfer the data to your CRM environment.